My passion is solving communication tasks creatively: from situation analysis and examining the options, to development of an individual concept up to optimal visual realization for all parties.
As a self-employed communication designer, I provide on- and offline services to medium-sized companies, associations and private individuals from various sectors, develop communication concepts, implement them and write texts for social media channels and websites. My experience is based on many years of freelance work in Germany and abroad.
Training
Qualified Designer (FH), Visual Communication
Focus on Graphic Design, FH Darmstadt, Germany
Prof. Christoph Gassner
Languages
German (Native language)
English
French
Stays abroad
Awards
Certificate of Typografic Excellence/TDC, Type Directors Club of New York
Award of ADC, Art Directors Club/Germany
Bronze 25th Typographic design excellence competition, TIA-Typographers International
Award of the Foundation for Book-Art/Frankfurt am Main, »Die 50 schönsten Bücher«
Participation at the "Katara Photographie Festival Competition" Exhibtion 2017 / Doha, Katar
Photo Exhibition "Von hier bis da" 2020 / Hotel Bartmanns Haus, Dillenburg
"V.v.Willendorf"?
A little limestone sculpture gave me my second name, in which I work since the early 90's : V.v.Willendorf. This figurine, called Venus of Willendorf, just 11 cm tall, was produced about 29.000 years ago. In the course of construction work it was discovered in 1908 by Joseph Bayer in Willendorf, a village in Austria.
The Venus of Willendorf stands in a line of more than 200 so-called "Venus finds" across Europe, representing women symbolically and in various ways: symbol of fertility, representation of cosmic unity, the subject of magic and contemporary fun – the meanings are controversial. I don't care: For me the Venus of Willendorf is one of the finest optical implementation of an idea and the origin of creative contract work.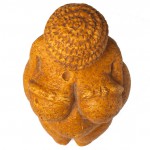 test